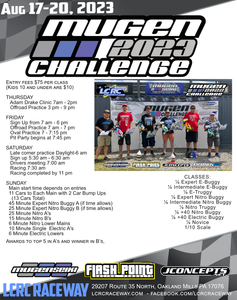 Tips and Tricks for Attending The Mugen Challenge in 2023
Its almost time for our biggest race of the year! For the next 2 weeks, we will be trying to share as much information as possible so you know just what to expect when you visit for LCRC presents: The 2023 Mugen Challenge.
Many of you have pre booked camper spots for this event. If your arriving in a Trailer, Camper, or RV, please stop beside the shop and check in before you park.
If your visiting us for the first time, make sure to check out the Visitors Guide here: https://lcrcraceway.com/pages/facility . This is a great way to get to know our facility, but also to learn the best spots to visit while your in the area.
Our Staff are available to help you throughout the weekend:
Christa & Kendall are in the hobby shop to help! They handle sign up, sales, but also can help answer questions, or arrange help from any of our crew! If you have a question, this is a great place to start! (Also, they are serving slushies all weekend!) To help them out, please have your transponder numbers with you when you come to sign up.
Kevin and the LCRC Crew are all through the grounds! You'll recognize them as the ones doing the track maintenance, but they are happy to help answer questions! To help them, be quick to your spot on the track turn marshalling. This gives our crew more time to do track prep and maintenance and keeps them from filling in on marshal spots.
Christa's Dad, Bob, basically takes care of everything facility, and will be your go to guy throughout the weekend! He will assist you in parking, will provide trash bags and clean up, and also is just a nice guy to have around! To help him out, place any full trash bags near, but not in the trash can. This way he can take care of one bag at a time!
Ed is our race director and announcer, and a long time Oval racer! To help Ed, if you have a late entry or a question or issue, take it to the booth in written form so that you don't distract him from what's going on on the track.
Hope our tips and tricks help you have an awesome weekend!
👨‍🏫What to Expect: Thursday, August 17th of LCRC Presents: The Mugen Challenge
📒Thursday will kick off Mugen Challenge with the Sold Out Adam Drake Clinic. Drivers who have pre registered for the event will meet directly beside the Hobby Shop under the EZ Ups, and will set up in this area starting at 7:00 am. Make sure your cars are ready before the track walk at 8:00 am.
🛍Not one of the lucky ones attending the Drake Clinic? Don't worry: This is a great time to go shopping, and get signed up for the event! The hobby shop will be open from 9:00 am - 7:00 pm, and sign up will be going on throughout the day. Don't forget, you must sign up before you hit the track.
🏎Practice will open at 3:00 pm for all. During this event, we will be practicing according to classes as shown on the Thursday Schedule. Drivers will be given wrist bands during sign up that designate the practice they may participate in. Any drivers with the correct wrist band may line up on the stepping stones to participate in practice. 📌Note: It will be Mandatory to Marshall following your practice.
Then get rested up, because Friday will be 🔥🔥🔥
What to Expect: Friday, August 18th of LCRC Presents: The Mugen Challenge
Let's Talk About Practice: Practice will follow the same rotation on Friday as it did Thursday, twice starting at 7:00 am. (Check out the schedule in the pictures.) In order to practice, you must be registered and have the proper wrist band (Sign up is located inside the hobby shop). Practice will conclude at 7:00 pm.
The party kicks off with the most epic Oval Race of the year. If you haven't seen the 1/8 Scale Late Models race on the LCRC Oval, you absolutely cannot miss it. The cars will hit the track directly at 7:00 pm.
The official Pit Party Kicks off directly following the Oval Program! You won't want to miss the amazing food, the corn hole tournament (50% of Entry Fee's go to the winner!), the great music, and an all around awesome time to set the tune of this unforgettable weekend!
What to Expect when Parking at LCRC Presents The Mugen Challenge
We could not be prouder of the LCRC facility, and this map will be a great guide to parking during this event.
Pitting: Although there is pitting available throughout the facility at LCRC, The numbered spots on the map are reserved spots. Pit Lot 1 will be a great place to set up your pit for the weekend, and does not require any pre reservation, (and is available first come, first serve). Pit Lot 1 is grass with electric available. Generally to pit here you will want to bring an EZ Up, Table, Chair, and Extension cord. Want to be closer to the action? There is also room for 10x10 tents to build off "Tent City" near the hobby shop.
Parking: Cars will need to be parked in the car parking near the back. This will allow for as much room for pitting near the track as possible. Feel free to pull your car up to unload, but as soon as possible, move your vehicle to the Car Parking area.
Camping: If you are bringing a camper or a trailer the The Mugen Challenge, you will need to stop next to the hobby shop and have one of the LCRC staff help park you. This ensures we can fit as many people as possible, and keep everyone close to the track. Electric hookups are only available to those who have reserved the numbered spots on the Map, but those racers will also still need to check in on their way to park. Please pull ahead enough to leave room for vehicles to get off the roadway.
Do you have questions? Let us know in the comments.
What to Expect: Where to Grab the Essentials
Many who visit LCRC feel like we are kinda located in the middle of no where... but everything you might need is still REALLY close by. In this post, I am going to highlight your closest options if you need the essentials through the weekend:
Dean's Store: Turn Right Out of LCRC and Dean's is located less than 1 mile away on your left. Dean's not only is a gas station and a great place to grab a bag of ice, they also have a fantastic Deli counter, Ice Cream, and lots of basic grocery staples like Milk, Bread, Chips, and more. Make sure you tell the girls your in town for the RC race!
The Bread of Life Restaurant: Turn Left out of LCRC and BOL is located less than a mile into McAlisterville on the right, across the street from the Dollar General. We suggest hitting it for breakfast, and you'll probably see lots of racers while your there!
Sal's Original Italian Restaurant: Turn Left out of LCRC and Sal's is located less than a mile into McAlisterville on the left. Sal's has more than just Pizza; every Italian dish they make is *chef's kiss*. The dining room is now open, but you'll just order at the counter.
Iron Ridge on the Green is the new restaurant located at Lost Creek Golf Course (the first driveway to the left of LCRC). They not only have great food, but they are your closest option if you'd like a beer with dinner.
Pallet Grocery is a great place to grab local produce! Van Wert Cheese Shop is great for the thing you thought you had to go to Walmart for (and is just cool to visit.)
Want to know more? Lots more information can be found in our Visitors Guide: https://lcrcraceway.com/pages/facility
What to Expect: Ordering Online for In Store Pickup
Over the past few years, we have grown LCRCRaceway.com to provide all of the products you will find in store, also available online, with real time inventory tracking. We are also proud to be able to provide in store pickup. Are you worried about getting an order in time for the race? Order from LCRCRaceway.com and at the very start of check out process choose "Pick Up". We will pull the order and have it behind the counter for you! We also offer this throughout the race weekend, but please understand that in store customers come before online orders during these more hectic times.
---