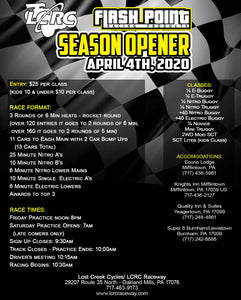 Flash Point Season Opener Postponed Indefinately
Announcement: The LCRC Flash Point Season Opener is Postponed indefinitely, pending the current pandemic. As of right now, we do not have a plan as to when we would reschedule, but we are leaving that as an option at this point. 
The LCRC family has kept positive outlook during a dire situation, but I have to admit, its pretty difficult to type this. We have been looking forward to 2020 being our best season yet, especially after finishing 2019 on such a high note.
Its not unheard of to have to cancel an RC Race in Central Pennsylvania. The rain we have been getting these past few weeks could have easily been the culprit, and saying it was canceled would have felt a lot different. Its the uncertainty that makes it harder. Its wondering when life will be able to return to "normal", and when we can again welcome racers back without fear. Its wondering what the next right thing is. (And yes, that's a Frozen 2 reference for all the other parents with toddlers at home with them.)
Kevin's parents health issues have made us extra sensitive to this pandemic from the beginning, and we want to do everything we can to be sure not only our family stays safe, but the family of every racer that visits us.  We are working to put measures in place for when we can come together again, we know it will be as safe as possible. 
There is a positive to this: We are using this time to improve. You can count on LCRC being better after this. We will use this change to find better ways to reach you, and serve you. We are so grateful for all the online and phone orders we have received throughout the shutdown, and I hope you'll continue to give us the opportunity to provide anything you might need as we go forward. 
Thank you for your continued support and prayers. Go rebuild you diffs and shocks again, and lets get ready to race! 
---